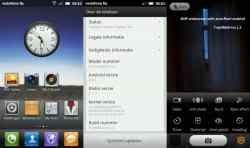 ROM: TripNMiUI Gingerbread
- Latest release 07-08-2011
- Rom versions
Road 1: 1.2.4
Road 2: 1.5.2

- Gingerbread 2.3.5 / 2.3.4
- MIUI 1.8.5 / 1.7.22
- Fully working camera
- MIUI Themes
- Wifi
(version 1.5 and higher need to use static-ip)

- GPS
- Prepared for TripNFeatures
TripNFeature 01 tweaks&hacks included
- Needs baseband .54 or higher
other basebands untested
- New edited TripNMiUI theme
- Quadrant results 1500+ (version 1.5.*)
- Radio hacks included
- Improved screen quality (Bravia!)
Working:
- Mobile phone (network and data)
- Wifi
- GPS
- Hardware sensors
3-axis Accelerometer
3-axis Magnetic field sensor
Orientation sensor
Proximity sensor
Gravity sensor
Linear Acceleration sensor
Rotation vector sensor
Changelog 0.3.0:
- Almost all lag is gone (when it settles there should be no lag)
- Screen quality better then before
- Games should play faster
- More fixed
changelog will be edited tomorow
Changelog 0.3.5:
- Some lagfixes
- Multilanguage
- Rebuilded for more stable feelings
- Radio issues fixed (should run on baseband 58 and higher)
Changelog 0.4:
- Update to MIUI 1.6.3
- Improved lag-fixes
- No lag on launcher with shadows on
- No lag in settings menu
- Disable auto rotation to fix all lag
- Tweaks edited
- TripNMiUI theme edited
- Phone and SMS app edited (dont select advanced->text during call = FC)
- Rotation lag identified (cant be fixed now it will break camera)
- HSDPA, HSPA, HSUPA, HSXPA connections improved
- Charging optimized
Changelog 0.7 - 0.8:
- Updated to MIUI 1.7.8
- New theme system integrated
- Updated default theme
- Added MIUI Camera
- Fixed some text color issues
- Fixed WIFI issues
- Default MIUI torch app included (works!)
- Fixed screen going to max-brightness
- Stabilised camera functions
- Improved movie playback
- Lag fixes
Changelog 0.9:
- All FC fixed
- Rotation lag removed
- Text color issues fixed (integrated upon default MIUI style)
this ensures that almost all text issues are solved, i couldnt find any, let me know if you find them
- HW video decoder (95 - 99% working)
- Lag fixes (feels like a Froyo rom)
- Bluetooth system rebuilded
- Graphics system rebuilded
- Audio improvements (special effects, movie sound etc)
- 720P recording codecs integrated (not activated untill release is stable)
- Optimized images
- DVM reverted back to normal (no linpack of 46 in this one) DVM is placed back when release is stable
- Updated rendering solution
- Reboot the phone by hand after booting is complete (fixes all issues related to clean install)
- Fixed theme reverted to stock after reboot
- Many extras will be activated when this release is STABLE
Changelog 1.0

- mobile data fixes
- radio fixes
- radio edits to make signal more stable
- when signal is lost phone searches for the best alternative
- videoplayback improved
- sound improvements (more surround sound)
- display improvements
- lots of various improvements / fixes
- faster connection to router / ap
- improvements on smootness / lag
- imrovement of overall game experience
- performance boosts added (TripNFeature)
- edits in battery performance
- TripNEngine ported (30% done)
Changelog 1.2:

- Camera implemented
- Videocamera working up to 1280x720 incl. AAC audio
- Bravia Engine fully ported 1:1 from the Arc rom
- A lot of new tweaks included
- Baseband .54 and higher supported
- Baseband .71 advised
- Videoplayback improved
- Torch app removed
- TripNEngine removed to get camera working (coming back)
- Native usb tethering added
Changelog 1.3:

- HUGE IMPROVED ON GAMES
example quadrant first game test from 16fps to 28fps constantly (without fps uncap)

- Mobile data connection improved
- Upgrade to Android 2.3.5
- Upgrade to MIUI 1.7.29
- DSP Manager added
- Improved battery performance
- Improved overall rom performance
- CM7 keyboard added
- No wifi
- Updated to latest SU
- Quadrant result 1500
Changelog 1.2.4:

- FC in Settings/DND mode solved
- A lot of apps updated / edited
- Improved performance
- Mobile connections edited
- Google talk included & functional
- DSP Manager added
- Updated black theme
- New default lockscreen
- Updated to latest SU
- Updated keyboard
- Updated / edited Bravia engine to match xperia x10
Changelog 1.5:

- Update to MIUI 1.8.5
- Bravia engine updated to latest version (Arc 4.*)
- xLoud (always on!)
- FPS uncap
- Updated tweaks
- Apps2SD fixed
- Updated default theme
- Google Talk included
- Improved screen quality (related to Bravia)
- Torch lockscreen fixed
- Torch app included
Changelog 1.5.1:

- Updated tweaks
- Rom uses swapfile for all partitions (system, data, cache)
- Addblocker
- Updated system hack method
Changelog 1.5.2:

performance update only
- Quadrant score increase with +200 / +300
- Performance for games increased
- FPS stabilizer
- Scrolling/movement inside improved
- DVM tuned/optimised for 48M heap size
- Basic parts of TripNEngine ported (~10%)
- Audio recording editted
- Optimised swapfile usage
KNOWN BUG: PLAYING HIGH-DEF VIDEOS GIVES LOW QUALITY (only in version 1.3)

reason: bravia engine bricked, allready fixed so dont worry!
If you are not on my pre-rooted S.E. rom then follow these installation instructions exactly.

- download TripNMiUI-IRIS_Gingerbread_TripNRaVeR-v1.2.zip
- go to xrecovery 0.3 and install it
- DO NOT REBOOT

- pull out battery and wait for few seconds, to be sure wait 30 sec at least
- putt battery back in
- flash ftf file with Flash Tool
http://www.fileserve.com/file/FhPMRqY
(download FTF file bb71+kernel)
- turn phone on
- enjoy TripNMiUI
Download 1.2.4:
http://www.fileserve.com/file/G9ThxZ3
Download 1.5.2:

http://www.fileserve.com/file/xmCG76w
TripNMiUI-Iris addon pack 001

http://www.fileserve.com/file/GyDVG6g
Addonpack contains the following (not included in rom itself):

flash trough xrecovery
- MIUI Compass app
- DSP Manager
- Google Maps
- Spare Sparts
- Street app
- Talk
- Voice Dailer
- Youtube
Hey z(ero) dont hate me cause you aint me
You cant even fix a lousy Torch without stealing! Assbag

Have fun! Finally Gingerbread with a fully working camera!